"It's when I shut my mind off, the magic begins"
RWD STUDIO / Est. 2014
The Journey
After a couple of years working with fast fashion, I started missing the creative aspect of fashion design. I was longing to have actual garments running through my hands, generating ideas while working. This urge resulted in the line "Made in Copenhagen", containing garments and accessories purely made made at our studio, which later developed into a more sustainable strategy. I decided to focus less on RWD's commercial lines, shifting my designs to simple styles with an avantgarde take. I have always loved to knit all the accessories myself, and believe in concept of slow fashion. I value creating products with my own hands – to work with minor details and perfecting them.
My Inspiration
I am definitely fascinated by geometrical shapes and volume. My designs are mostly inspired by interesting architects but i also enjoy to explore specific shapes, like the square. During my process of designing, I experiment with various buildings and by interpreting their aesthetic expression. I strive to create a synergy between a domain of slid structures and supple materials. Through my experimental and intuitive design process, I aim to create collections that satisfy the multiple needs of modern women. Raw materials are rigorously evaluated and chosen carefully with a strong focus on quality and diversity. The collections are distinctive and classical, yet slightly askew. I wish to integrate a strong and sophisticated expression, with that little extra twist that makes the individual garments stand out.
Rosa Winther Denison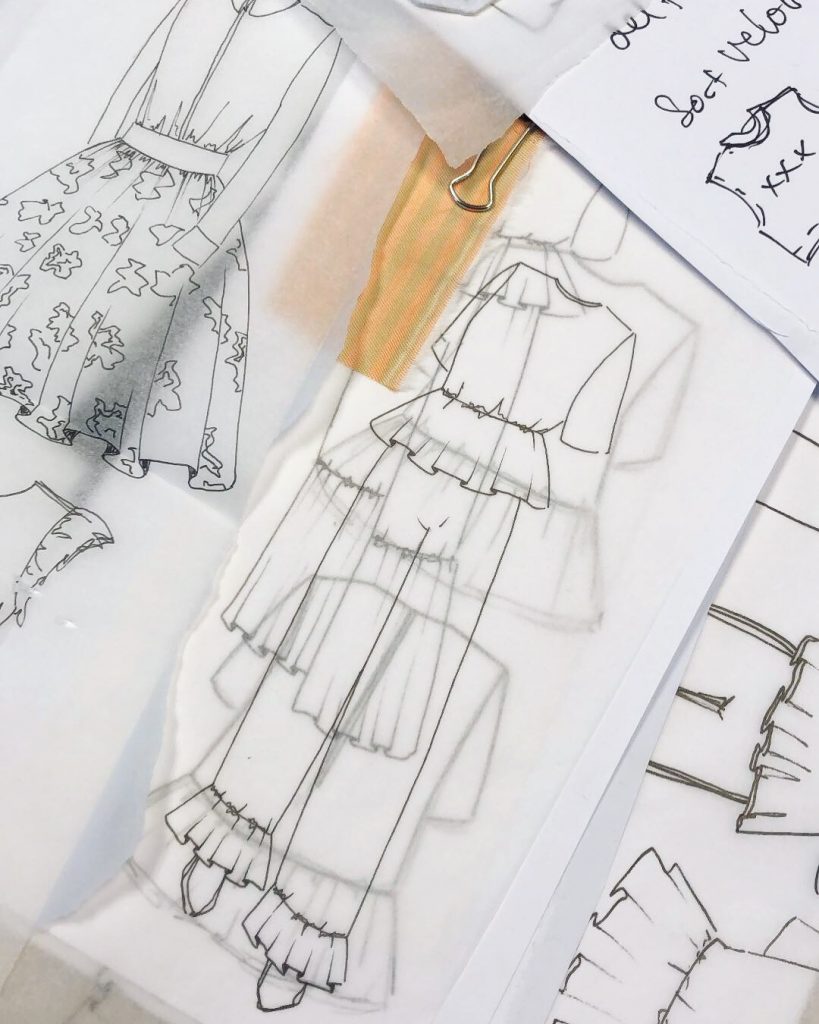 How are we sustainable?
At RWD we care about our planet as well as the citizens who inhabit it. There is always a sustainable solution, and we hope to change the minds of out consumers, by picking quality over quantity. We wish to spread the belief in a more sustainable world, especially inside the realm of clothing manufacturing. We believe that yet the smallest company can make a difference. This is how we work with sustainability:
Slowfashion: As the term implies, my garments are made slowly. I cut by hand, sew with our own machines and apply buttons and trim by hand.
Organic or Ecotex certified fibres: I always look for organic or ecotex certified fibres first. If using polyester textiles, I prefer using recycled fibres if possible.
Eco-Friendly: Slowfashion products are normally much more eco-friendly compared to fast fashion product. I do not mass produce limiting overstocking and having to ship goods back and forth from countries abroad.
Handmade quality: I develop patterns, cut and sew at our studio. We assemble our garments by using machines finishing off with hand stitching.
Locally sourced textiles: I aim to buy all our textiles locally supporting local businesses.
Recycled textiles: Recycled fibres can be made from a diversity of textile waste. Both quality and process capacities of such fibres rely upon the sort of waste. If available I prefer using these sustainable textiles.
Up-cycled products: How cool is it to transform an unused or worn out garment to something else? I think is it one of the coolest things in the world. When vintage styles are donated to me, I take great pleasure in transforming them into something new. Check out our Lisebag to see an example.
Dead stock textiles: Textiles that are can left over from production or textiles that simply cannot be sold. In my opinion these are some of the best. In stead of being tossed out and burned, I incorporate them into my collections, giving them new life.